Being a professional organizer, my home is usually pretty neat and well organized but like anyone, when life gets busy I tend to let some things slide. Before I know it, I find certain areas of my home (usually closets, cupboards, drawers- places visitors don't usually see) have become somewhat cluttered. Having a family and a business to run, it's easy to put off dealing with them.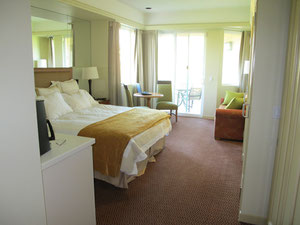 Recently my husband and I were blessed  to be invited to spend a week in Palm Springs with some dear family members in their time-share condo. What a wonderful, relaxing time we had! No time schedules, no place we had to be, just complete indulgence to our whim of the moment. Our condo was absolutely beautiful, calm and uncluttered and contributed greatly to my enjoyment of our vacation. Each space held all of the essential items we needed and was comfortably arranged and decorated in an easy-feeling way.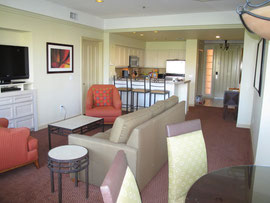 It was so freeing to live in this uncluttered space, with just the items needed for daily living that upon our return I was inspired to create some of this vacation-living feeling in our own home and indulged in a purging and organizing spree to streamline some of our family's most cluttered areas.
Here's what I did:
Cleaned out the refrigerator and threw away old bottles of salad dressing, produce and foods from before our vacation, wiped out the inside and organized what was left. Stocked with fresh and colorful foods, cooking now seems less of a chore. 
Same thing in my pantry- old expired foods were tossed and shelves were dusted and re-organized to inspire healthy meals.
Removed some items from my cupboards I never use- extra casserole dishes, plastic jugs with no lids, tattered dish towels, etc.
Threw away half-used bottles of toiletries and old cosmetics hogging space in my bathroom cupboard and drawers, cleaned light fixtures, mirrors and cologne bottles for a bit of sparkle.
Treated myself and my husband to new feather pillows for our bed- so soft and luxurious!
Went through my husband's wardrobe with him and purged a couple of large bags of clothing from our closet. This was a huge relief and gave us some breathing space! My clothing is next and then we'll have even more room.
Whew- I feel so much better about my home after doing these few organizing tasks. It's amazing how a little time-out from everyday living can re-energize! I hope you can use some of these ideas from my vacation - inspired organizing spree and create some easy-feeling and uncluttered space in your home.