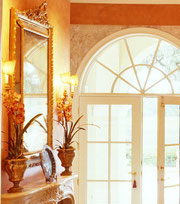 Home decorating used to mean special ordering fabrics, furniture and materials and spending large amounts of money in the process- making it out of reach for many of us. Most people just do not have the budget to get rid of everything they have and start over from scratch to create a new look for their rooms. Today's decorating is much more obtainable and affordable. A new wave of interior decorators called Redesigners, One-Day Decorators or Room Stylists are here to transform homes affordably by remixing, repurposing and rearranging the existing furnishings and accessories in creative, new ways. Beautiful rooms don't have to cost a fortune anymore- Interior Redesign services can help you use what you have to the fullest, saving you the expense of buying a lot of new pieces.
A typical redesign consists of:
A consultation with the redesigner so that they understand what you want to achieve in your space- better flow or functionality, a lighter feel, more style?
Establishing which things work well in the room, should stay and can be used to build the new design upon, then removing furnishings that won't be included in the new design.
Taking all of the room's accessories such as lamps, pillows, rugs, plants, knick knacks, etc out of the room temporarily so the "bones" of the room can be seen.
Reworking the furniture arrangement to make the best use of the space and highlight the room's natural focal point (fireplace, picture window, etc) and architectural features.
Reaccessorizing by bringing back your favorite treasures and pieces that work well together to create a cohesive, warm and welcoming design.
Leftover pieces can then be used to decorate another space or packed away to rotate back into the room later, creating yet another new look such as a seasonal decorating scheme.
And lastly, your redesigner can recommend which, if any, finishing touches are needed to complete the new look and where to buy them at a reasonable price. Redesigners offer shopping services and can shop with you or for you, often extending their professional discounts to your purchases and also have valuable connections with local tradespeople such as painters, house cleaners, closet designers etc they can refer you to, if needed.
So if you're tired of the same old space and would love to give it a fresh new look without having to spend a lot of money on new purchases Interior Redesign (also known as Staging to Live, House Fluffing or Use What You Have Decorating) could be perfect for you. It is also extremely useful for those who are moving, combining households or downsizing and makes a wonderful gift for young people setting up a household for the first time or for a loved one making the transition from a house to assisted living.
To learn more about Interior Redesign services and fees, contact us. We are experts at using what you own and love to create a warm and welcoming space that perfectly reflects you and your family. We would love to help you redesign, restyle and give your space a whole new feeling- affordably and in less than a day!