People often ask me if my house is perfectly organized and my answer is no, of course not. I deal with all of the same challenges as everyone else (not enough space, not enough time, too much stuff!). But I find having an organized home makes life so much easier so it is a priority for me to come up with solutions to make my home and its' limitations work for me. A good example is my master bedroom closet. It is a very small walk-in I share with my husband that holds ALL of our clothing (everything but our coats and everyday shoes that we keep in the coat closet near the front door). We removed the dresser in our bedroom space in order to make room for a sitting area (my refuge when our daughter has a bunch of teenage friends over!) so we added some drawers to the existing shelves to hold socks, underwear, t-shirts, etc that used to be stored in the dresser. Needless to say, this small closet has to be super organized in order to hold everything. Here are some of my strategies for dealing with this limited space: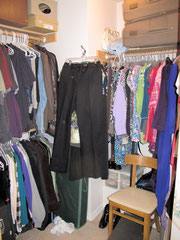 Number one is to not overbuy! At the beginning of each season I take some time to go through my clothes, get rid of those I no longer wear and then think about what is missing or needs replacing. I then only buy those items that I need to fill in the blanks in my wardrobe. Here is a picture of my closet after my late-spring shopping trip. A few new staple pieces hang on a handy hook while I take a little time to straighten and organize the closet. Since I do this seasonally the closet never has a chance to get completely out of control.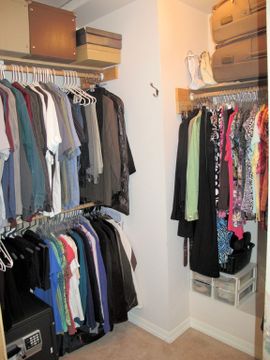 Here's my closet after spending an hour or so neatening it up and incorporating my new purchases. I feel so much better once this is done and excited to put some summer outfits together.
A few more solutions for my small space:
Storage boxes are kept on the top shelf to rotate a few seasonal clothes. Seasons here in the northwest overlap quite a bit so I only rotate the definite winter and summer clothes such as heavy wool sweaters and beachwear.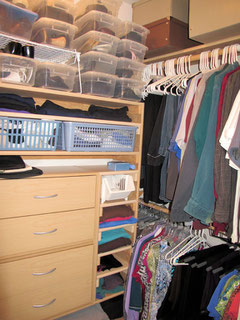 I keep categories of clothing together to make it easy to dress in the morning. Some categories that work for me:
Stored on the left side of my closet are:
Casual pants and jeans
Shorts
Casual tops- short sleeve and long sleeve
Sweaters and sweatshirts
Dress clothes and clothes I wear when I'm working are kept on the right side making it easier to get ready for business and social events:
Jackets
Dresses
Trousers
Skirts
Blouses
Then on the far right is my sleep and lounge wear. These are here because this happens to be the only place for long hanging items in my closet.
I keep my dress shoes in plastic storage boxes to keep them from getting dusty.
Purses and bags I don't use often are stored under the hanging clothes
I use wall hooks to hold clothes that need attention (ironing, mending, return to the store, etc) in my sight so that I won't forget to take care of them.
A clothes basket is kept here to transport clothes back and forth to the laundry room.
A sturdy chair is handy for sitting on for putting on socks, setting the clothes basket on while I put the clean clothes away and to stand on (very carefully!) when I need to reach the top shelves.
Hope you enjoyed peeking inside my closet- maybe some of my strategies will make yours work better for you. Happy Organizing!