Have you tried all kinds of furniture arrangements in your long but narrow room and just can't seem to find one that feels right? The owners of this Tacoma, Washington home had tried everything they could think of to make their living room feel comfortable and inviting. Nothing seemed to work so they had pretty much given up on the space and it sat empty of furniture until they decided to put the home on the market.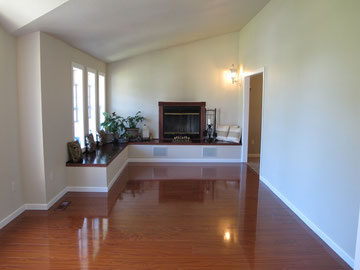 Realizing this wasn't a great first impression for potential buyers (this was the first room you see upon entering) I was called in to stage and give this room a welcoming feeling as well as some interest and impact.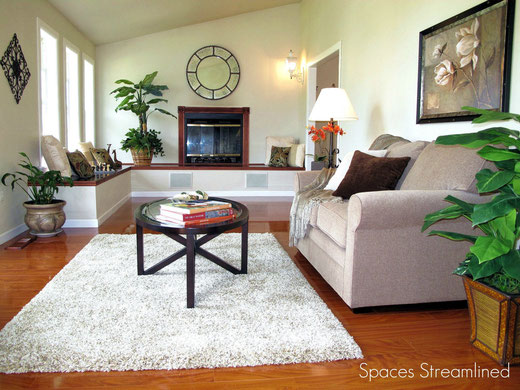 As you can see from the after photo, this room has been transformed into an inviting space that will appeal to visitors. Whether you are decorating to live or staging to sell, here are some tips for decorating an awkward space such as this one.
Break up the space into two areas. Here we have a cozy sitting area anchored by a textural rug as well as another area near the fireplace with built-in benches and pillows. We used the owners beautiful chess set to "set the stage" and suggest that this is a valuable place for a cozy game or place to chat, enjoying the wonderful fireplace.
Play up the fireplace and make it a dramatic focal point in the room. Using an interesting round mirror with an antiqued finish over the fireplace and drawing the eye with a large plant gave this room some "wow factor"
Using an oval coffee table helps to smoothly route traffic through this small space and the glass top helps to minimize it's bulk visually.
A stack of beautiful books invite an afternoon curled up on the couch reading and enjoying a serene space away from the busier rooms of the house.
Hope these tips help you solve some of your decorating challenges! Please feel free to comment or add your own tips below. If you need help staging or decorating your rooms, we're here to help:)
Before and After Photos